The Early Days.
It all started with an assignment in 1999 to Eielson AFB, Alaska. Jim was an A-10 pilot in the USAF. Like other military families, every 2-3 years we moved to a new adventure. We loved living in Alaska and decided to retire here. We bought part of an old homestead, built our log cabin, and finally settled down.
We embraced the freedom and pioneer spirit of the Alaska lifestyle. We also found we needed something to occupy our time during the cold dark days of deep winter. Deb took a stained glass class in downtown Fairbanks at Expressions in Glass, and was taught the art by master glasscrafter Debbie Mathews. It was here that our Deb bought all of the tools and made the infamous "Tulip Panel." She brought the tools and extra glass home and got Jim hooked. We never looked back.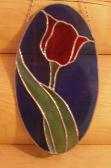 Deb took over marketing, sales, grinding and soldering. By the way, her soldering has evolved to be some of the finest ever seen. Jim took over design, patterns, foiling and detail work. Our son Chris has since joined the team and has proven to be a very talented glass artist. Together we create original, detailed, and unique stained glass art inspired by our life and adventures in the great state of Alaska.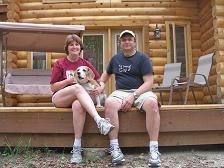 Why Arctic Beagle?
Bruno was our pet beagle when we first started ABG. All pet owners know how much your pet becomes a member of the family and eventually takes on a magical personality. Well Bruno was no exception. When we first arrived here, we felt compelled to bundle him up to go out and do his business in the arctic temperatures. There are very embarrassing pictures of him circulating around the internet with doggie parka, hat, booties...poor pup could hardly move. Well he quickly toughened up and eventually went out totally nude...even in the minus 40 degrees we sometimes see...although he was much quicker about doing doggie duties. But from this experience came the name Arctic Beagle, which symbolizes our adapting to the arctic. Bruno evolved to be our supervision and inspiration.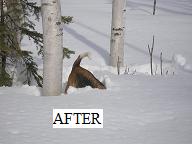 Bruno has long since moved on, and our current Arctic Beagles, yes...two of them, are Bert and Rose. These two now grace our front page and will pick up the job of supervision and customer complaints.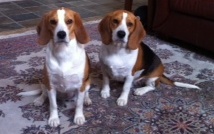 Where is the Studio?
Arctic Beagle Glass is located in the heart of downtown Salcha, Alaska. We are near the Salchaket Roadhouse on a 79 acre spread at 9291 Richardson Highway. The studio is on the lower level of the Bubba Moose Lodge, a log house that sits back about a mile from the highway. Deb and I built Bubba Moose Lodge in 2006 with a lot of help from our son Chris, and Deb's mom and dad, Louise and Ron. As with almost all Alaska homes, it's not quite finished.
Did I see your Adopt-A-Mile sign out on the Richardson Highway?
Why yes you did! We adopted mile 321 to 322 in 2008.